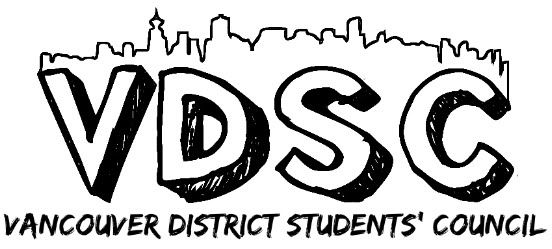 Logo design by Arun Dhir
The VDSC Mandate
The Vancouver District Students' Council (VDSC) is a committee of student representatives from all secondary schools and alternative programs within Vancouver. The VDSC's mandate is to provide student input in the planning and decision-making of the District. It is also an opportunity for students to develop leadership skills, work collaboratively with students from other schools on pertinent educational issues, to contribute to the Vancouver School District and to learn about decision-making and policy development
Composition
The Vancouver District Students' Council is made up of an Executive Body and a General Body.
The VDSC General Body includes all secondary schools and alternate programs within Vancouver. Each school sends:
1 District Representative (a student preferably in a senior grade elected to their own students' council in the role of VDSC Liaison)
1 School Representative (a student preferably in the junior grade whose selection is determined at the school level – often a volunteer or appointment)
The VDSC Executive Body has 9 student members who plan, organize and execute all VDSC business and projects.
The VDSC Executive Body for 2012-2013 is as follows:
President: Jennifer Yoon (Lord Byng)
Vice-President: Rita Steele (King George)
Communications Officer: Chansey Chiang (Churchill)
Public Relations Coordinator: Anita Li (Britannia)
Social Events Officer: Sally Lin (Lord Byng)
Marketing Coordinator: Kevin Dhir (Churchill)
Alternative Schools Officer: Coral Batzorig (King George)
Information Technology Officer: Hugo Chow (Gladstone)
Committee I Rep. (Management Coordinating): Jacqueline Louie (Van Tech)
Committee II Rep. (Planning & Facilities): James Champion (Van Tech)
Committee III Rep.'s (Education & Student Services): Nick Milum (Hamber)
Committee V Rep. (Finance & Law): Robin Asgari (Tupper)